The Uniting Church in Australia offers its sincere apologies to all children in the Church's care who have suffered sexual abuse of any form, whether that abuse happened after Church union in 1977 or before that, in predecessor Churches.
Due to the work of Australia's Royal Commission into Child Sexual Abuse, the responsibility for Australian faith-based organisations to engage their staff and members about child safety has never been clearer.
The Uniting Church has developed a National Child Safe Policy Framework. The Framework, Implementation Plan, Implementation Checklist and more are available at http://assembly.uca.org.au/royalcommission
---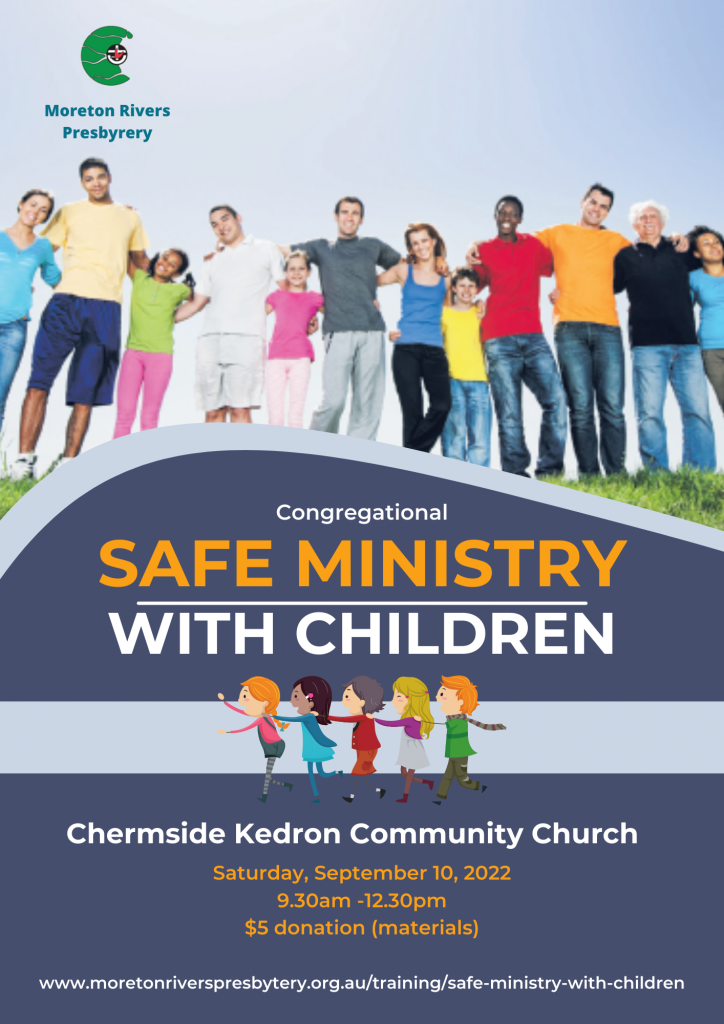 ---
Individuals or congregations wishing to undergo safe ministry with children training are encouraged to contact your  Moreton Rivers Presbytery - adminsupport@mrpres.org.au Resources can be found at the Synod Website click here.
The primary SMCT platform Moodle will be decommissioned on the 28th July 2021 and a new platform edUCate will be online on 2nd August 2021
Lay Training Schedule:

Year 1- Module 1 (everyone), Module 2 - 7 depending on roles
Year 2 - No Training Required
Year 3 - Refresher Training (everyone) 3 - 7 depending on roles
Year 4 - No Training required
For more assistance please contact MRP Office or Synod: safeministrywithchildren@ucaqld.com.au 
QLD Government Blue Card application forms can be downloaded from the Government website here.
ULearn will be decommissioned on the 28 July and the new platform edUCate will go live on the 2 August 2021.
Ministry Agent Schedule:

YEAR 1: Ministry Agents 1 (ULearn), Agents 2 (Face to Face), Agents 3 (ULearn)
YEAR 2: Ministry Agents 1 (used as the refresher)
YEAR 3: Ministry Agents 2 (used as the refresher)

Ministers are to sign and send to Presbytery a Statement of Committment every year.
For more information on how to access ULearn please contact Synod: learning@ucaqld.com.au 
the General Secretary asks each presbytery to gather information from congregations to demonstrate compliance with their obligations to provide a safe environment for the children they are ministering to.
All church councils formally adopt the Safe Ministry with Children policy annually and comply with the requirement of the Act and Regulation for a 'Child and Youth Risk Management Strategy'.
A council resolution be made if the congregation determines not to conduct child related activity.
All people working with children are screened, trained, sign a statement of personal commitment to child safety and be approved by the church council before commencing. This screening includes interviews, referee checks and linking of blue cards.
All of these documents can also be found on the Synod Website, along with many other useful resources and tools.
QLD Government Blue Card application forms can be downloaded from the Government website here.
If you have any questions or concerns please contact us or Synod: safeministrywithchildren@ucaqld.com.au